– Practical effective marketing for SMEs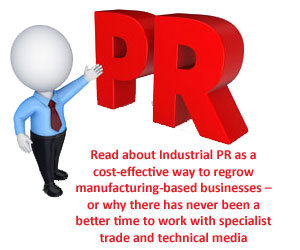 We are a broad service marketing agency for small and medium-sized industrial companies operating in the Business-to-Business (B2B) sphere. We help clients maximise small budgets – enabling big growth. We help companies punch above their weight, grow and survive.
All the time growing our evidence base along with our experience and gradually bringing these changes and opportunities to our clients in a proven, cost effective way. In over 20 years we have pro-actively developed our services from the age of print media onto the Internet and now the Social Media eras.
Services
Trade Press print media
B2B internet media
Directories
Newsletters
News Blogs
We create the following content for PR work and general SEO:
White papers
Technical pages
Feature articles
Product Releases
Applications
The Industrial Marketing Agency focuses on promotion "free at the point of publication". We can create your press releases from a verbal or written brief/datasheet. Your press releases will be written to maximise take-up and SEO, supported by by one or more high-resolution images.
From our extensive list of industrial magazines and websites we will create a custom list to distribute your press releases.
Website creation and management:
New websites or refreshing an existing site
Keeping your website up to date with all of your latest product information and news
Optimising SEO to ensure your website is found by search engines
Management of your online store
Social Media – Linkedin, Twitter, Facebook etc:
Help with setting up your social media accounts or improving your existing ones
Keeping your social media accounts up to date with all of your latest product information and news
Low-cost, effective product videos
Placing of videos for the most effective coverage

We can help with all of this and more …
We also recognise that paid for promotion plays an important part in the marketing mix and so also offer the following advertising options:
Online Packages
Printed Publications
Do you have questions? Please see our Case Studies page for examples of how we can help you get more "bang for your buck" from your marketing budget.
Please check out our White Papers page to see how we approach marketing for Industrial SMEs.