2016 newsletters:
12th December: Christmas Greetings from The Industrial Marketing Agency
Read more …
21st January: Why – and what is – Industrial Social Media?
Many years of observing the widening social media activity in broader society and a good few of those explaining and developing their use for industrial clients has brought the following conclusions: Read more …
2015 newsletters:
16th December: What is Position 1?
So, if someone says they are on position 1 of page 1, what does this mean? Read more …
Christmas Greetings from The Industrial Marketing Agency
Read more …
2nd December: You can only sell what you talk about
It seems reasonable to consider that the first responsibility of a marketing executive is to understand the market in which they operate. One area that is easily overlooked is terminology – what do people call your product? Read more …
25th November: The tip of the iceberg
From qualitative research across our client base we estimate that 23% of free web coverage is corporate website, 22% is corporate blog and 55% is from third party sites – online journals, online directories – which get picked up by search engines. Read more …
11th November: Successful? Everybody knows you?
What do you do in a small niche market where everybody knows you? Read more …
27th October: Website and sales engineers – a customer support team
In fact a good website provides most of what a good sales/technical support team has to offer – but all it can offer is information.
Read more …
13th October: Industrial website design
Industrial website design seems to be maturing into a stylish but very focused search friendly catalogue format, backed up by a wealth of valuable material. Read more …
22nd September: Trickle down content marketing
By taking a systematic approach to content generation and dissemination we find that we can cost-effectively achieve coverage for clients. This generally involves a trickle-down from the initial brief which may start as a press release, white paper, feature article or video. Read more …
9th September: It's all about perspective
When I took on my first proper marketing job (as marketing manager for a small company in the enclosures business) I was given a sales territory of my own – it was local and smaller than the other sales engineers but I was accountable for it and had to spend time "on the road". Read more …
18th August: Don't take customer applications for granted
Why do people watch YouTube – yes aside from entertainment – many many people watch "how to do it videos". I remember one video getting 30,000 hits in a year on how to trim florists' plastic foam with a knife. Read more …
5th August: Globalisation has a long way to go yet!
Clearly we are still in the early stages of globalisation – with the great manufacturing engine that is China starting to find life difficult courtesy of re-shoring and economic downturn. Read more …
22nd July: Don't be afraid to state the obvious
I'll keep this one short – a note for sales/marketing people everywhere. Read more …
7th July: Be there when they need you
It used to be difficult and expensive to arrange to be in front of potential customers when they needed you. Read more …
24th June: The importance of how a company does things – Don't leave your customers with a problem
Finally, the third in our series on the importance of how a company does things – Don't leave your customers with a problem. Read more …
10th June: The importance of how a company does things – Selling what you believe in
The second in our series on the importance of how a company does things. Selling what you believe in – and not – that is not believing in it and not selling it. Read more …
28th May: The importance of how a company does things – Resentful vs. willing service
Welcome to a series of 3 newsletters on the importance of how a company does things. Like our interactions with other individuals we find there are companies we like to deal with and others we don't. This is simply a matter of treating people decently – as you would wish to be treated yourself. Read more …
15th May: Web traffic and web presence information
From time to time I see in the SEO related newsletters and am told by individuals that the best web traffic and web presence information is provided by Google Analytics and further that an in-depth understanding of the black box algorithm they use is vital to marketing on the web.
Read more …
15th April: Release the company within
Getting a bit New Age here, but stay with me. In the same way that a human being is defined by such things as DNA and experience, surely a company is defined by the personalities of the people involved, their structure/relationships and experiences with customers, suppliers, consultants etc. Read more …
1st April: When was Marketing ever more important for industrial companies?
That's a good question – when was marketing actively more important for SMEs, or more available, or more cost-effective – or indeed cheaper?
Read more …
18th March: The Marketing/Sales Balance
I have been interested in the difference between B2C and B2B for many years – a difference heightened by the rise of the internet. Read more …
3rd March: We are already in a group – called Industrial Manufacturing
Perhaps sales people are drawn to social networking – but I believe engineers are more interested in solving problems. Read more …
18th February 2015: An interesting question
Not all your visitors are created equal – does the filter role performed by 3rd party sites mean their referrals are of higher value than straight Google referrals or pay-per-click ads? Read more …
4th February 2015: Just because they clicked on blue widgets doesn't mean that's what they need or even want
Let's take a moment to question convention and ask: Do you really want to send a prospect directly to what they click on? Consider the supermarket concept of enticing people to wander around the store so they can browse on their way to their final destination. It works for them – because we find it useful. Read more …
20th January 2015: Good enough really is good enough – and that is a (very) good thing
Striving for perfection is a good thing but frequently over-rated – especially on limited resources and against a tight deadline when micro management in marketing is not appropriate. Read more …
6th January 2015: What did Marketing ever do for Sales?
Apart from the warm leads, the online RFQ's, the phone enquiries and the instant launching of new products – oh and the data support and the application guides and the application notes/videos? Read more …
2014 newsletters: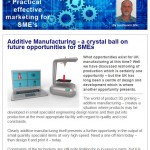 22nd December 2014: Additive Manufacturing – a crystal ball on future opportunities for SMEs
What opportunities exist for UK manufacturing at this time? Well we have discussed reshoring of production which is certainly one opportunity – but the UK has long been a centre of design and development which is where another opportunity presents.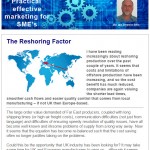 3rd December 2014: The Reshoring Factor
I have been reading increasingly about reshoring production over the past couple of years. It seems that costs and limitations of offshore production have been increasing, and so the cost benefit has much reduced, companies are again valuing the shorter lead times, smoother cash flows and easier quality control that comes from local manufacturing – if not UK then Europe-based.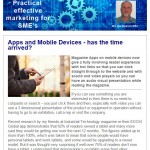 25th November 2014: Apps and Mobile Devices – has the time arrived?
Magazine Apps on mobile devices now give a fully involving reader experience with hot links so that you can click straight through to the website and with sound and video players so you can have an audio visual presentation while reading the magazine.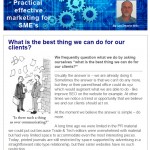 13th November 2014: What is the best thing we can do for our clients?
We frequently question what we do by asking ourselves "what is the best thing we can do for our clients?"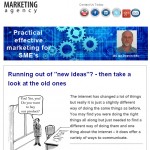 October 2014: Running out of "new" ideas? – then take a look at the old ones
The internet has changed a lot of things but really it is just a slightly different way of doing the same things as before. You may find you were doing the right things all along but just needed to find a different way of doing them and one thing about the internet – it does offer a variety of ways to communicate.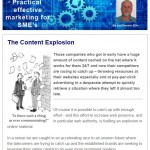 September 2014: The Content Explosion
Those companies who got in early have a huge amount of content cached on the net where it works for them 24/7 and now their competitors are racing to catch up – throwing resources at their websites especially and at pay-per-click advertising in a desperate attempt to quickly retrieve a situation where they left it almost too late.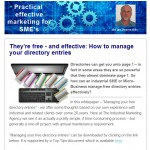 August 2014: How to manage your directory entries
How an SME or micro-business can use this important channel of information flow.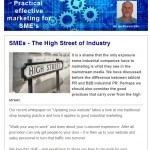 July 2014: SMEs – the high street of industry?
A paper discussing the factors involved in website maintenance and the comparative value of an up to date corporate website in the marketing mix.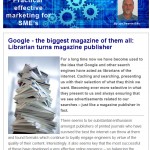 June 2014: Google – the biggest magazine of them all, librarian turns magazine publisher
Describes some ideas on current B2B publishing associated with the development of Google as our primary search engine resource.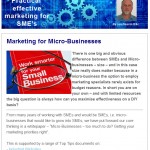 May 2014: Marketing for Micro-Businesses
Too much to do? Get your marketing priorities right – How to understand and prioritise the options available to get the best value for money.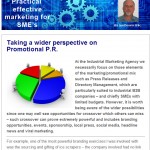 April 2014: Taking a wider perspective on promotional P.R.
At the Industrial Marketing Agency we focus on the elements of the marketing/promotional mix which are particularly suited to industrial B2B companies. However, it is worth being aware of the wider possibilities since you may well see opportunities for crossover which others can miss – and these can prove extremely powerful.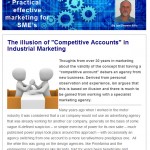 March 2014: The illusion of competitive accounts in Industrial Marketing
Thoughts from over 30 years in marketing about the validity of the concept that having a "competitive account" debars an agency from new business. Derived from personal observation and experience, Ian argues that this is based on illusion and there is much to be gained from working with a specialist marketing agency.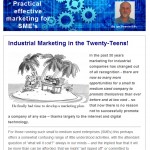 February 2014: Industrial Marketing in the Twenty-Teens!
The Industrial Marketing tools available to SMEs have changed out of all recognition since the internet become a viable communication channel. There are now so many more opportunities for a small to medium sized company to promote themselves than ever before and at low cost – so there is no reason not to do so.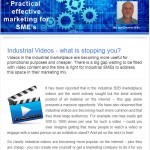 January 2014: Industrial Videos – what is stopping you?
Videos in the industrial marketplace are becoming more useful for promotional purposes and cheaper. There is a big gap waiting to be filled with video content and the time is right for industrial SMEs to address this space in their marketing mix.

2013 Newsletters: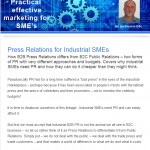 December 2013: Press Relations for Industrial SMEs
How B2B Press Relations differs from B2C Public Relations – two forms of PR with very different approaches and budgets. Covers why industrial SMEs need PR and how they can do it cheaper than they might think.
November 2013: How small companies are competing successfully and punching above their weight
Given the need to find, meet and engage customers then to deliver a satisfying buying experience – how are small companies addressing this effectively?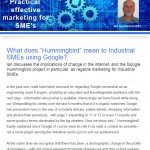 October 2013: What does "Hummingbird" mean to Industrial SMEs using Google?
Ian discusses the implications of change in the internet, and the Google Hummingbird project in particular, as regards marketing for industrial SMEs.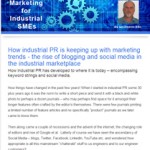 September 2013: How industrial PR is keeping up with marketing trends – the rise of blogging and social media in the industrial marketplace.
How industrial PR has developed to where it is today – encompassing keyword strings and social media.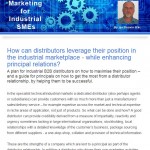 August 2013: How can distributors leverage their position in the industrial marketplace – while enhancing principal relations?
A plan for industrial B2B distributors on how to maximise their position – and a guide for principals on how to get the most from a distributor relationship, by helping them to be successful.

July 2013: Advertising for Industrial SMEs
What works and what works cost-effectively to help small companies punch above their weight on restricted budgets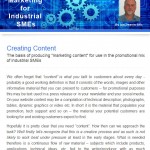 June 2013: Creating Content for Industrial Marketing
The basis of producing "marketing content" for use in the promotional mix of industrial SMEs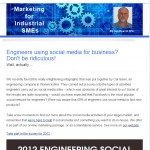 May 2013: Engineers using social media for business?
The 2012 Engineering Social Media Survey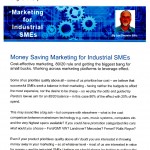 April 2013: Money Saving Marketing for Industrial SMEs
Cost-effective marketing, 80/20 rule and getting the biggest bang for small bucks. Working across marketing platforms to leverage effect.
March 2013: The Value of Social Media for Industrial SMEs
How to get started – this is the right time for industrial companies to put resources into Social Media. Why and How?